September Volunteer Newsletter
Thank you, Sutroites!
It's remarkable individuals like you, who truly make a difference! We appreciate your interest and time invested, in changing the lives of others. Each month this webpage will be updated with new volunteer opportunities and ways to give back to our community. Enjoy these fun and fulfilling activities while making a positive impact!
Coat Drive
Life Science Cares Bay Area
Event Date: September 1-30
Contact: Deb Heminger, debra@lifesciencecares.org
Life Science Cares Bay Area leverages the power of the life science industry to solve one of our most intractable social issues—poverty. They currently operate in four locations that boast a critical mass of companies working in biotech, pharmaceuticals, medical technology, and research: Boston, Philadelphia, San Diego and the San Francisco Bay Area.
Share the Warmth With Us!
Coat Drive
Drop off clean and wearable coats by September 30th in the labeled bins located in the break room in San Carlos or Cellfree Cafe in Oyster Point. Kindly select wearable coats that are new or gently worn, clean, without holes, stains, broken zippers, missing buttons, etc. 
Life Science Cares Bay Area will collect, sort and add a special pocket note to each coat. Their partners will distribute the coats for FREE to people in need at participating non-profit organizations throughout the Bay Area, without discrimination or obligation. 
All of the coats will be donated and NOT sold for profit. 
Our goal is to donate 75 coats! Help us Help our Community!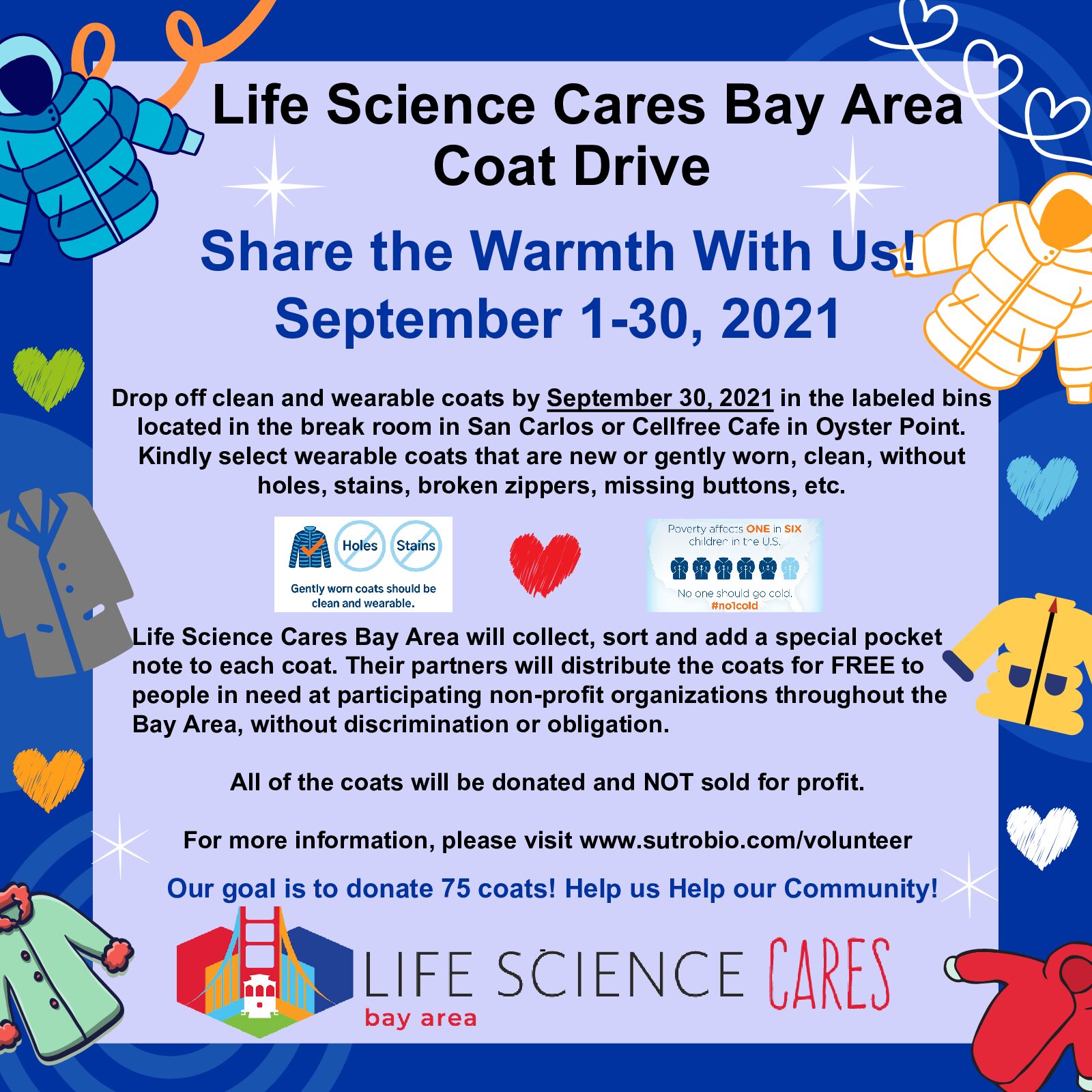 Past Volunteer Newsletters