Sutro's Commitment to Patients
Cancer has been an unbeatable enemy for too long and for too many people. Advancing cancer treatments, giving patients longer lives and improving their quality of life remains the mission of Sutro Biopharma. By leveraging Sutro's pioneering technology, we aim to rewrite the future of oncology.
This year alone, more than 1.8 million Americans will receive a cancer diagnosis, and sadly, more than 600,000 will die from the disease.[1]
Sutro and our employees are dedicated to improving survival and quality of life for cancer patients through our innovative research, discovery, development and manufacturing of novel cancer therapeutics.
We believe that Sutro's revolutionary technology has the potential to change the future of oncology therapeutics; the Sutro team is purposeful in its quest to fully realize the potential of its technology. Sutro is uniquely positioned to chart a path that allows its technology to fully intervene in human disease in a way that no technology previously has. Together with its partners and investors, Sutro is discovering, developing and manufacturing important new therapeutics with a greater precision and a deeper understanding.
[1] American Cancer Society. Cancer Facts & Figures 2020. Accessed May 2020.
Ovarian cancer is the number one cause of gynecologic cancer deaths. Understanding risk could save a life — yours or someone else's. Visit ocrahope.org/risktoolkit to find out what crucial steps to take today.
Background
Sutro's technology enables us to design and test complex molecules as potential next generation cancer treatments in a rapid cycle of weeks rather than months. This approach to discovery, without the cell, also transcends the limitations of biologics manufacturing.
Sutro has the world's only cGMP cell-free manufacturing facility. This state-of-the-art facility, located in San Carlos, California, confers an important competitive advantage in entering clinical development following discovery and pre-clinical assessment of lead development candidate compounds. Currently, Sutro has two wholly owned clinical phase products manufactured in our cGMP facility, STRO-001-BM1 for the intended treatment of multiple myeloma and lymphoma and STRO-002-GM1 for the intended treatment of ovarian and endometrial cancers.
Generation of the CD74 Targeting Antibody and a Novel, Specific, and Homogenous ADC, STRO-001[1]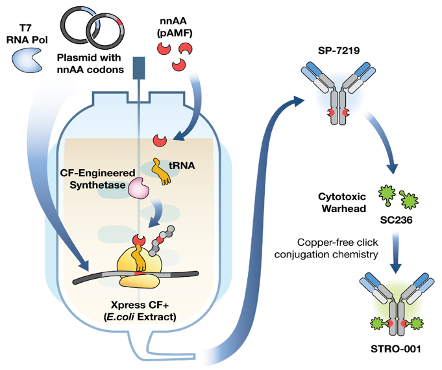 Using a cell-free expression system, the non-natural amino acid pAMF was incorporated at 2 sites on an antibody that targets CD74. Optimal sites were selected based on conjugation efficiency, cell-killing activity and pharmacokinetics in mice. The cytotoxic non-cleavable maytansinoid linker-warheads are conjugated at the two pAMF sites on the CD74 targeting antibody to generate the ADC STRO-001-BM1.
[1]

 

Zimmerman ES, et al. Bioconjug Chem2014;255(2);351-361.