FierceBiotech names Sutro Biopharma as one of its "Fierce 15" Biotech Companies of 2014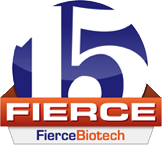 San Francisco, CA – September 22, 2014 – Sutro Biopharma today announced that it has been named by FierceBiotech as one of 2014's Fierce 15 biotechnology companies, designating it as one of the most promising private biotechnology companies in the industry.
"Sutro has earned some careful attention from an A-list group of backers as well as industry partners for what promises to be a next-gen approach to developing antibody-drug conjugates and bispecifics," says John Carroll, editor of FierceBiotech. "This is the kind of breakthrough thinking that could have a big impact on R&D."
"We are honored to be selected as a Fierce 15 biotech company," said William Newell, chief executive officer of Sutro Biopharma. "ADCs and bispecifics hold much promise, particularly for oncology, and Sutro continues to advance antibody therapeutics with improved stability and therapeutic indexes in collaboration with our partners and as part of our own pipeline. Our cell-free protein synthesis technology is uniquely suitable for the development of best-in-class ADCs, including those with two or more mechanistically diverse warheads to potentially address the challenge of drug resistance in cancer."
The Fierce 15 celebrates the spirit of being "fierce" – championing innovation and creativity, even in the face of intense competition. This is FierceBiotech's twelfth annual Fierce 15 selection. A complete list of "Fierce 15" companies can be found online at www.fiercebiotech.com/fierce15.
An internationally recognized daily report reaching a network of over 270,000 biotech and pharma industry professionals, FierceBiotech provides subscribers with an authoritative analysis of the day's top stories. Every year FierceBiotech evaluates hundreds of private companies from around the world for its annual Fierce 15 list, which is based on a variety of factors such as the strength of its technology, partnerships, venture backers and a competitive market position. 
About FierceBiotech
FierceBiotech is the biotech industry's daily monitor, an email newsletter and web resource providing the latest biotech news, articles, and resources related to clinical trials, drug discovery, FDA approval, FDA regulation, patent news, pharma news, biotech company news and more. More than 150,000 top biotech professionals rely on FierceBiotech for an insider briefing on the day's top stories. Signup is free at www.fiercebiotech.com/signup.