American Association for Cancer Research (AACR) 2018 – STRO-002 Abstract
Generation and Activity of STRO-002, a novel ADC targeting Folate Receptor Alpha for Ovarian Cancer
Folate receptor alpha (FolRa) is a glycosylphosphatidylinositol linked cell-surface glycoprotein that is highly expressed in serous and epithelial ovarian cancer (60-80%), endometrial adenocarcinoma (50-60%), NSCLC adenocarcinoma (70%) and squamous (50%) and triple negative breast cancer (35%). FolRa expression is highly restricted on normal tissues, making it a highly promising target for cancer therapy using antibody drug conjugates (ADCs).
We have designed a novel, FolRa-targeting ADC, STRO-002, with strongly potent cytotoxic activity on FolRaexpressing tumors in vitroand in vivo, independent of expression level.  STRO-002 contains the anti-FolRahuman IgG1 antibody (SP8166) conjugated to a highly stable cleavable linker-warhead, SC239. SP8166 was discovered from a Fab ribosome display library selection and screening platform based on Sutro's Xpress CF+™ system. Highly efficient site-specific conjugation enabled by our cell-free antibody production and click chemistry results in a well-defined uniquely homogeneous ADC drug product with a drug-antibody ratio (DAR) of 4.
In this abstract we will describe the identification and optimization of the lead anti-FolRaIgG1 mAb contained in STRO-002, the selection of conjugation sites based on highest stability both in vitro and in vivo, the screening and selection of a proprietary novel linker-warhead, SC239, and characterization of the in vitroand in vivoproperties of STRO-002 and its released catabolite SC209. STRO-002 haspotent cytotoxic activity (0.1-3 nM) in multiple ovarian cancer cell lines and demonstrates strong anti-tumor response in KB and Igrov1 xenograft models. Additionally, SP8193 exhibits dose-dependent tumor growth inhibition in Igrov1 xenografts starting at a single doses as low as 2.5 mg/kg. Evaluation ofin vivoactivity of STRO-002 in additional xenograft and PDX models, as well as in combination studies with chemotherapeutic agents is ongoing. Exploratory safety studies of STRO-002 in cyno and of the active catabolite, SC209, in rats show a favorable safety profile, thus making STRO-002 a suitable candidate for clinical development.
Authors:
Xiaofan Li, Sihong Zhou, Alice Yam, Robert H., Heather Stephenson, Kevin Brar, Ryan Stafford, Alex Steiner, Jeff Hanson, Mary Rose Masikat, Cristina Abrahams, Stellanie Krimm, Toni Kline, Adam Galan, Krishna Bajjuri, John Lee, Gang Yin, Venita De Almeida, Mark Lupher, Trevor Hallam,
Designing a best-in-class compound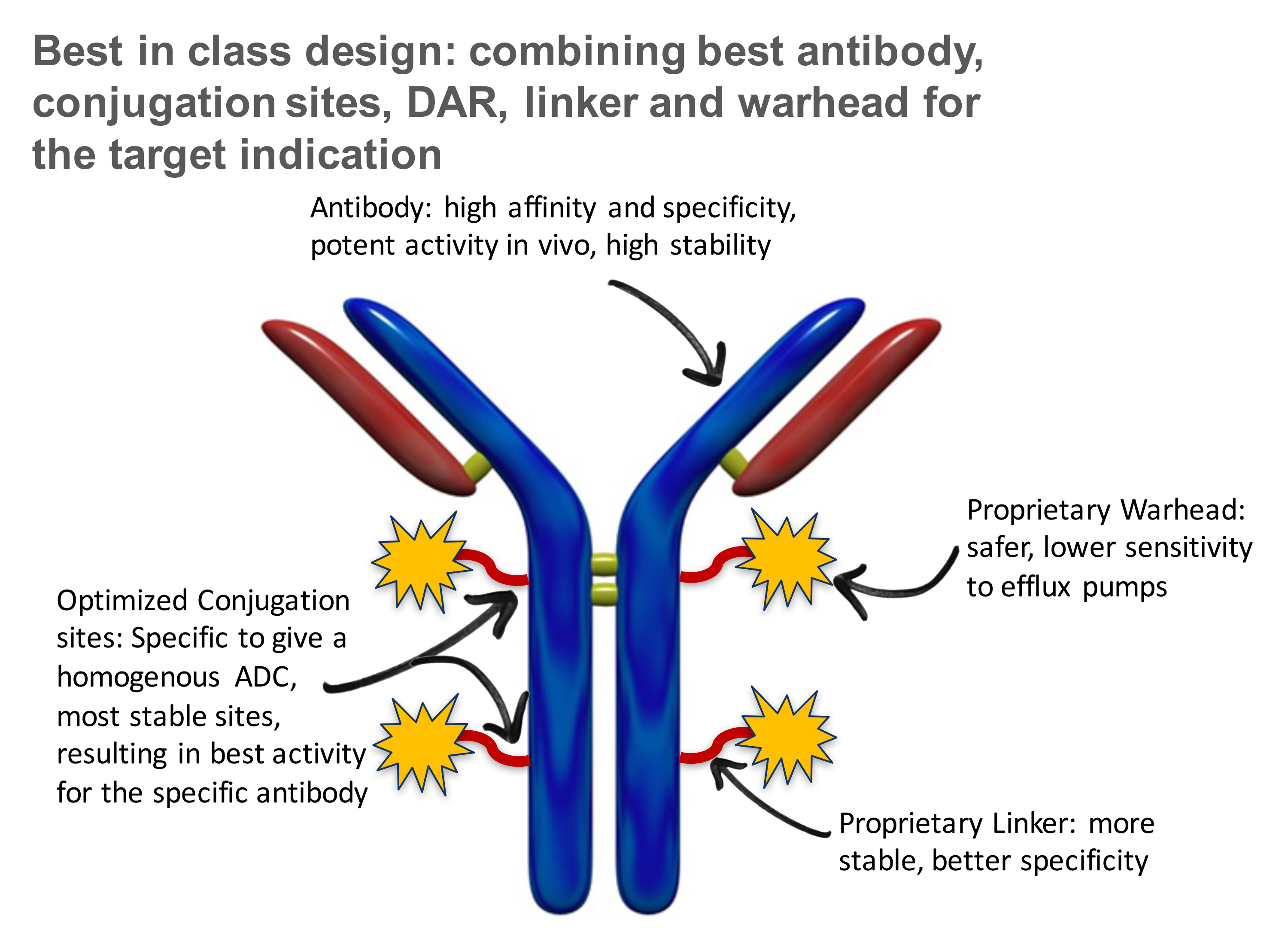 Cell free technology to enable the Sutro designed ADC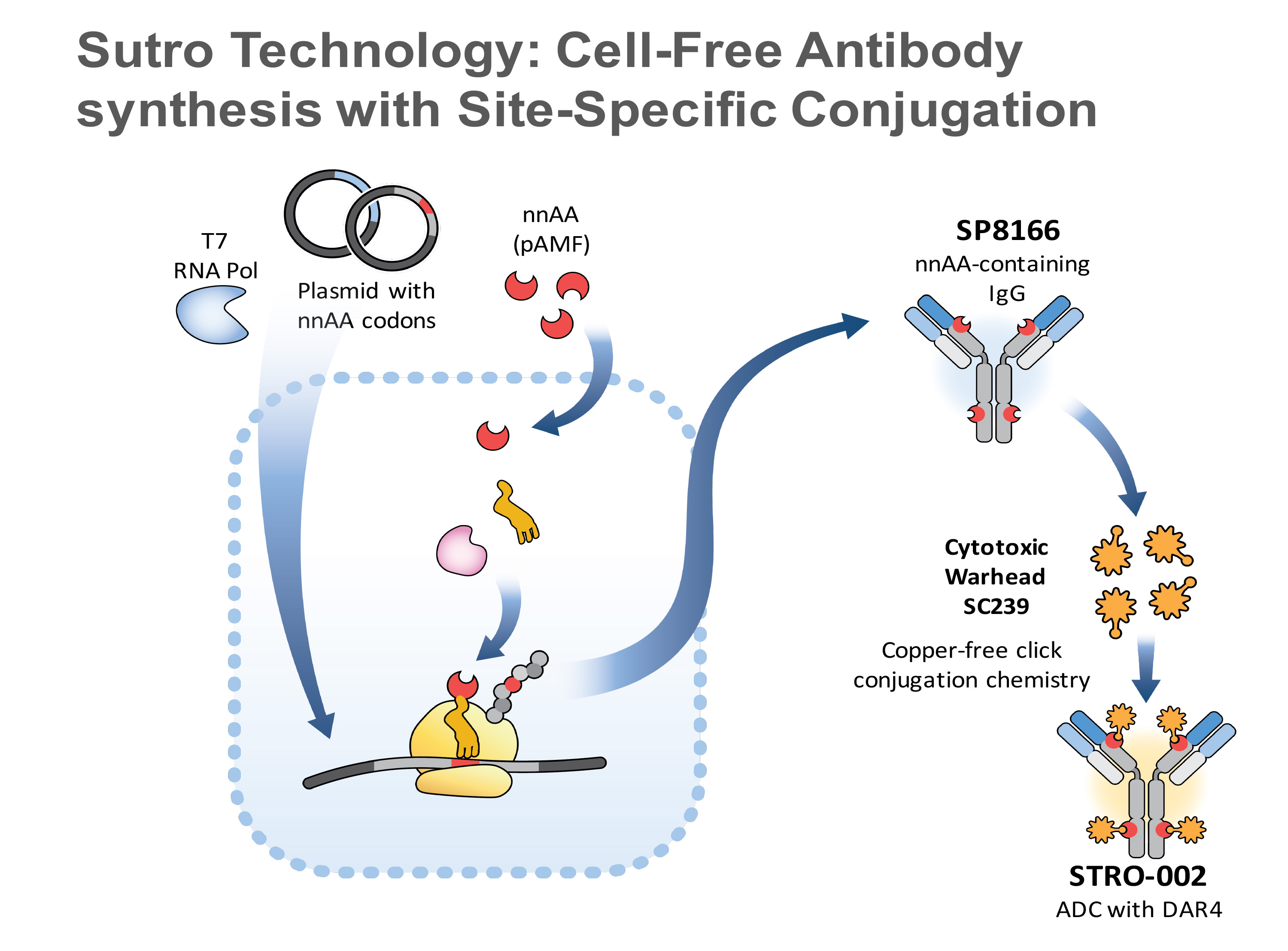 Steps that went into the design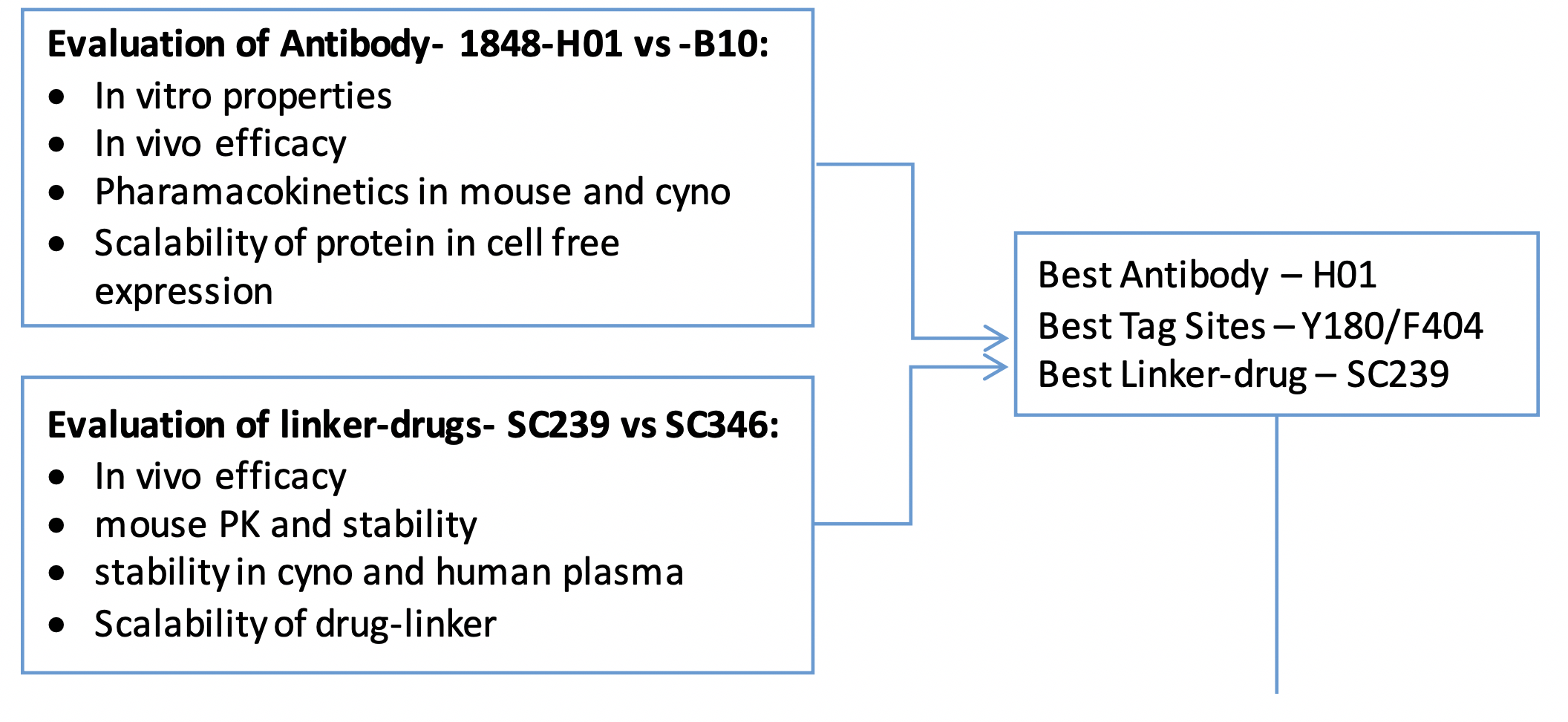 Choice of Linker-Drug and DAR:
Non-cleavable Maytansine DAR2/4/6

vs Cleavable Hemiasterlin DAR2/4/6

Selection of Top Antibody (DAR4/Cleavable linker)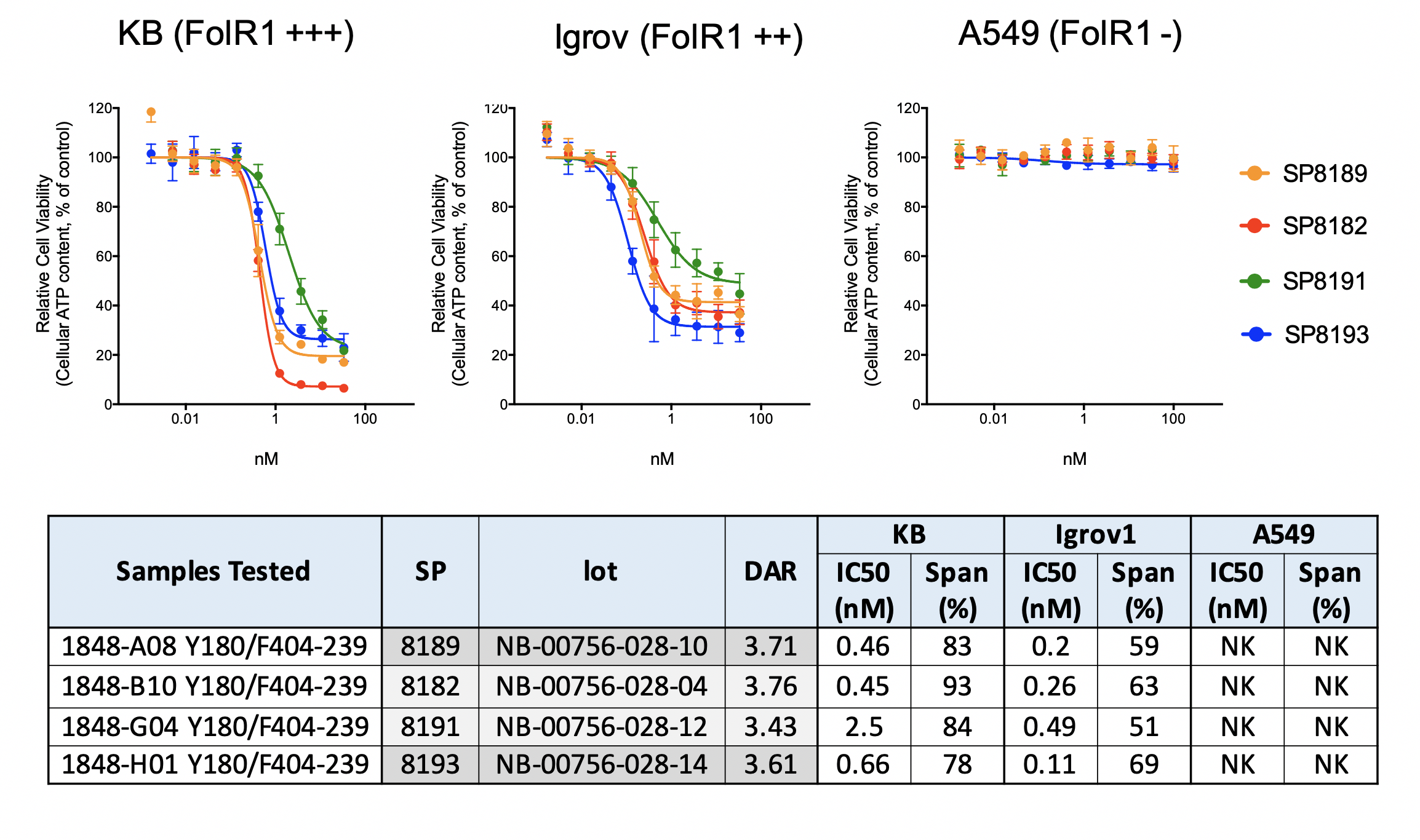 Selection of Top Conjugation Sites (activity with DAR4 – different site-pairs on KB tumors: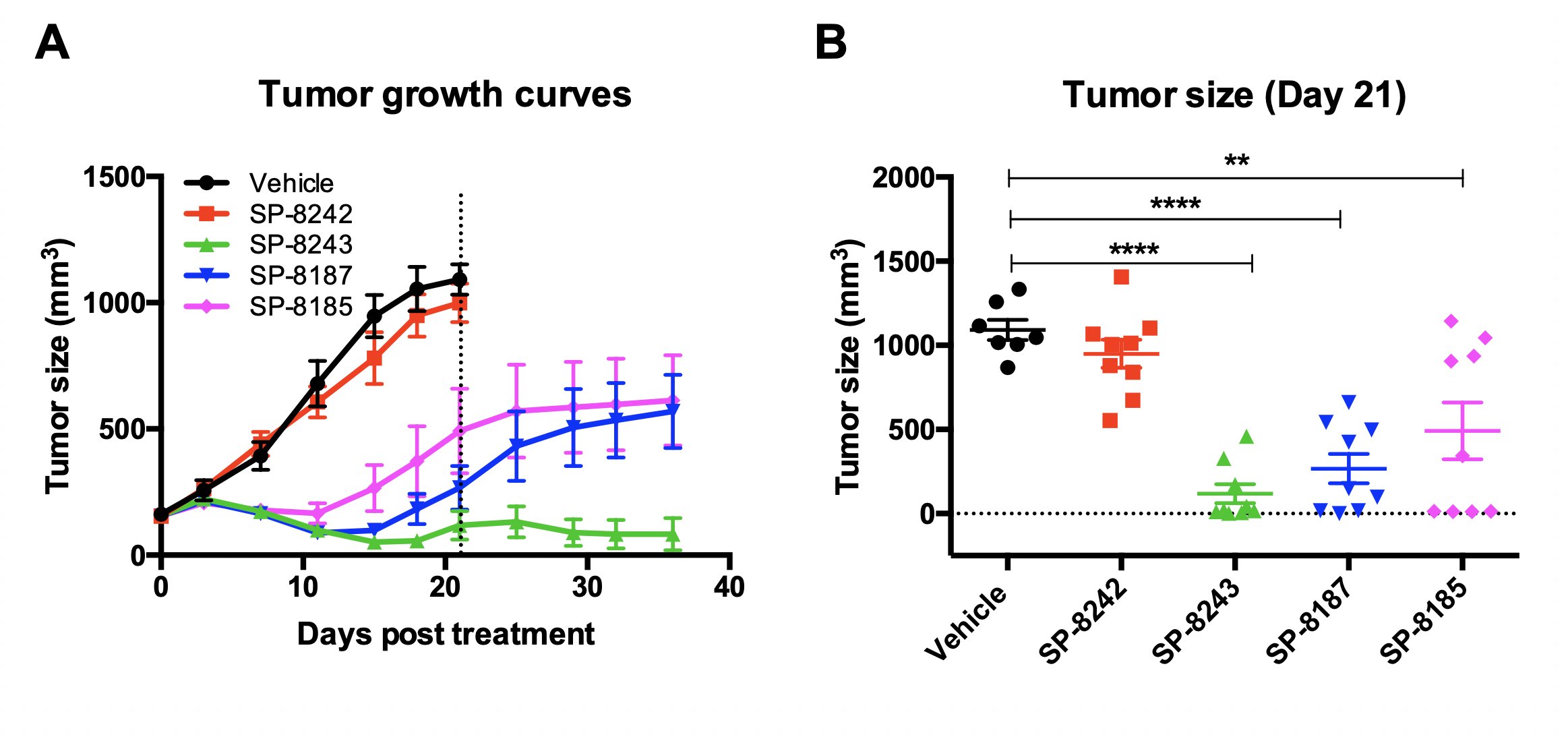 Selection of best cleavable linker (will only show 5 mpk dose data for this comparison)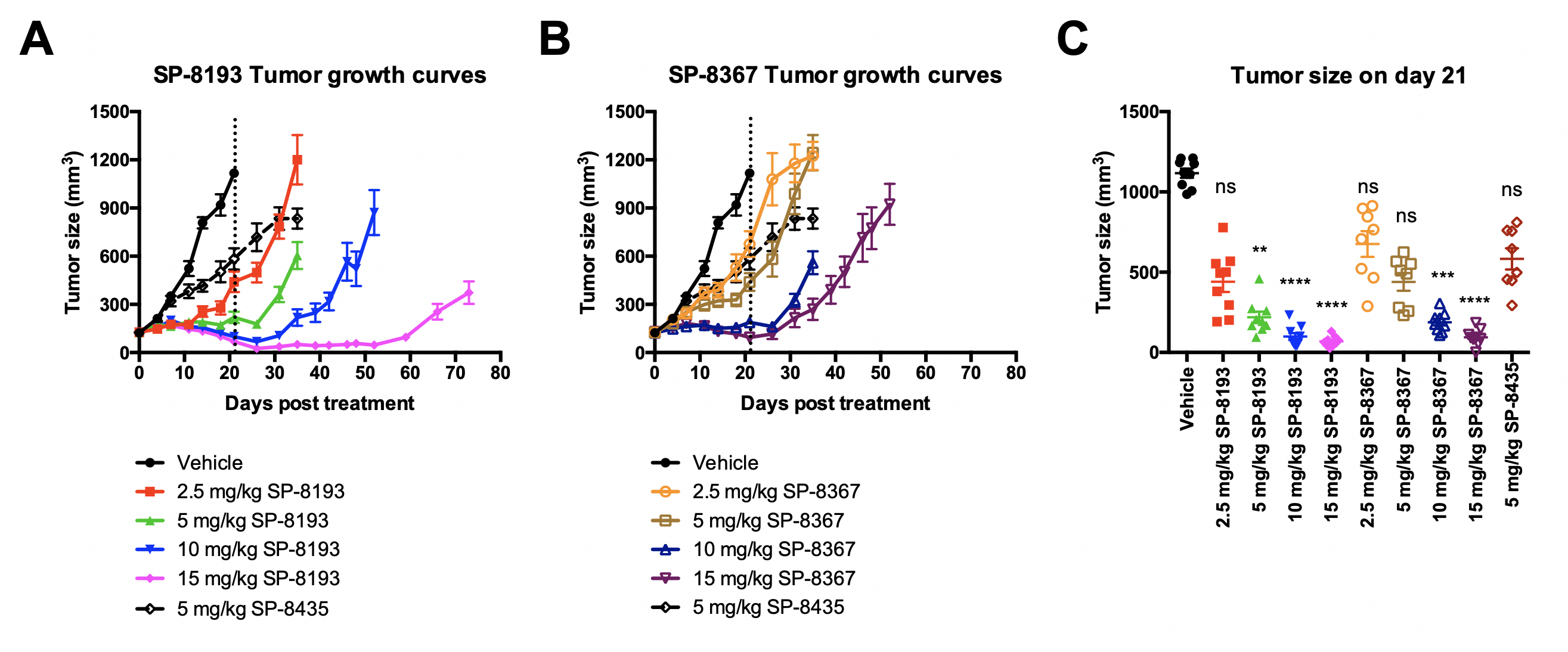 Confirmation of Lead using a dose ranging study(only SP8193 data here)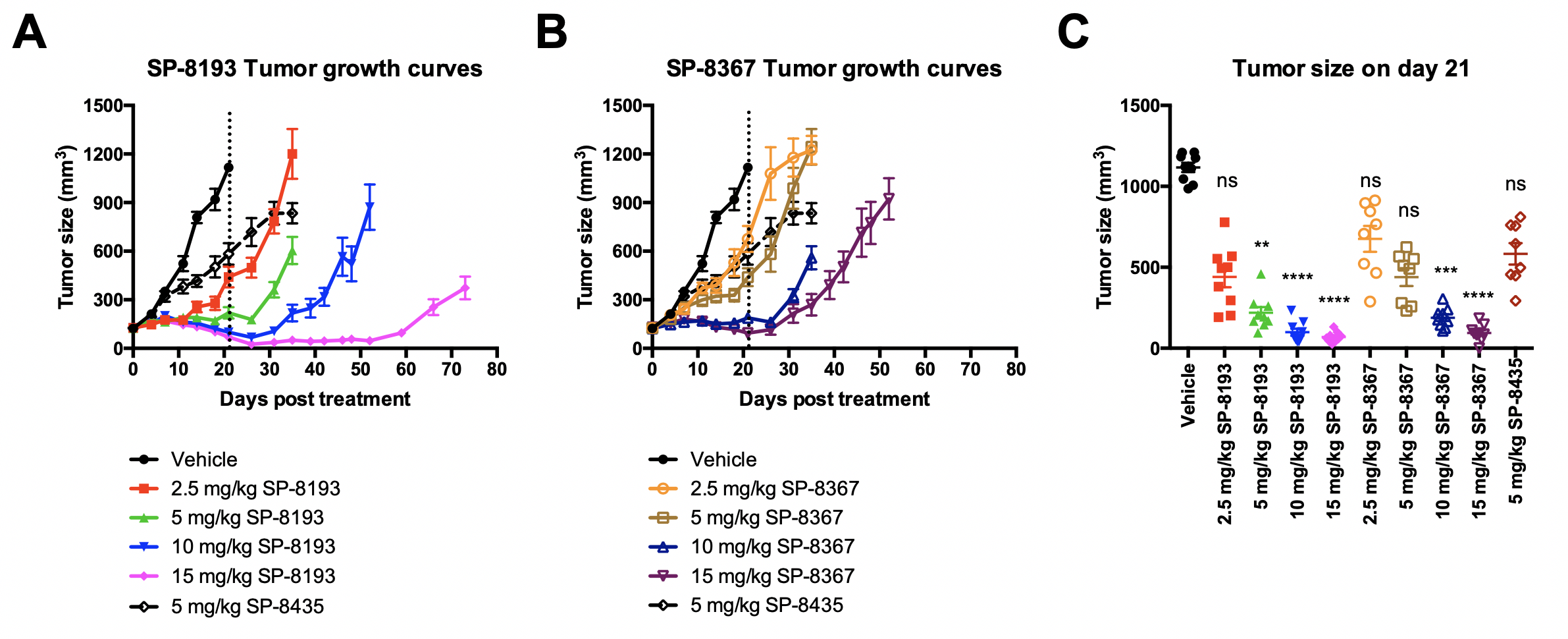 Maybe show in vivo activity in OvCAR3 models, one panel on safety in cyno and rat